Questionnaires and Polls
Questionnaires help enrich your qualitative study with more data. You may need to know more details about your participants or to ask them several questions to gather additional feedback to the qualitative part of your focus group.
Question types
Closed-ended questions:
Single-choice questions
Multiple-choice questions
Open-ended questions:
Short answer (one line)
Long answer (multi-line )
Numbers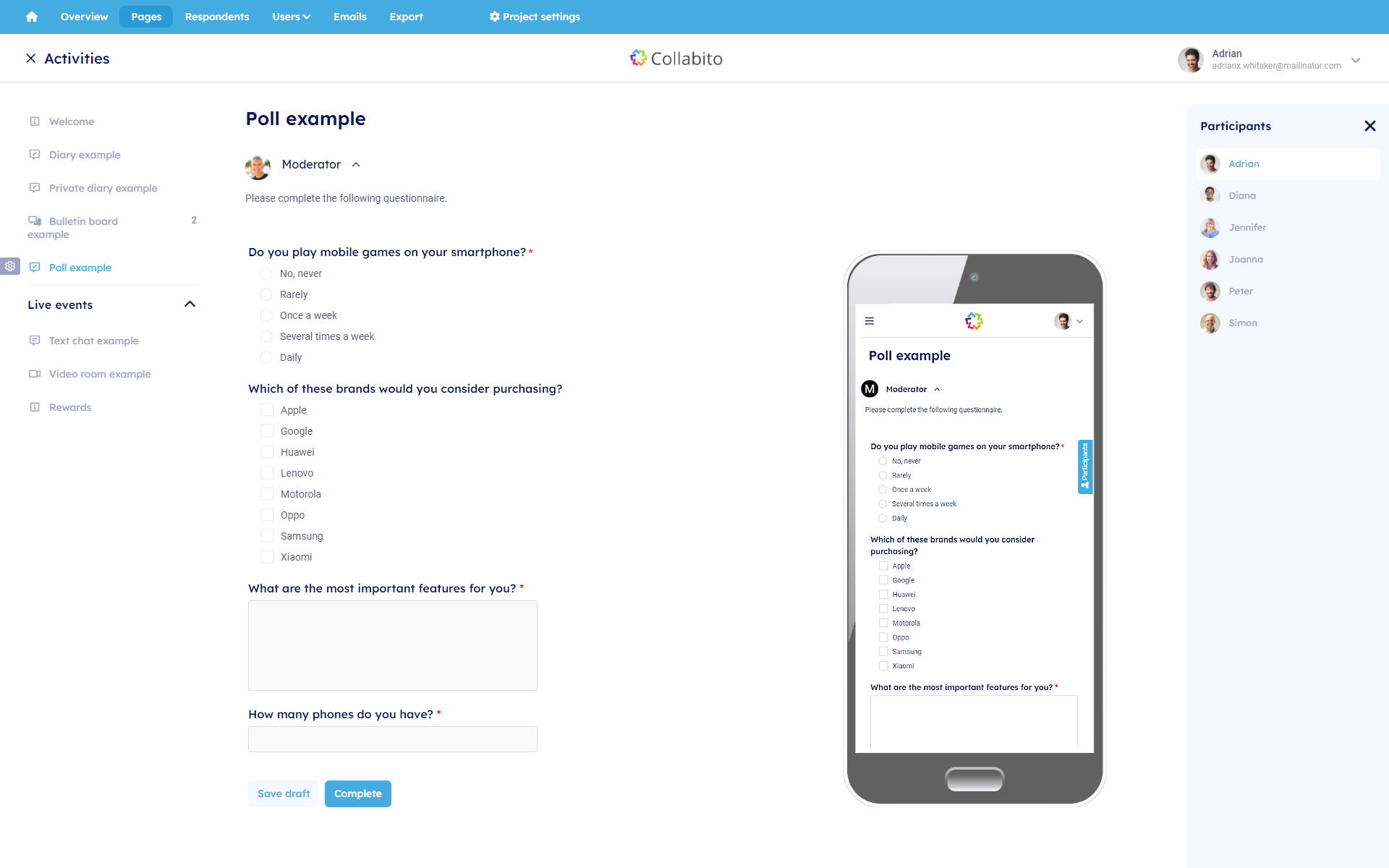 Required
Answers can be defined as mandatory or optional.
Mobile friendly
Respondents can use various devices – mobile phones, laptops, tablets.
Page layouts
One or several questions per page. You can make the responses of other participants visible.
Pages
Several different questionnaires in a project are possible.
Automation
Each questionnaire can be activated or deactivated at a specific date and time.
Dependencies
Activate a questionnaire after the respondent has completed another page(s).
Outputs
Results of questionnaires can be downloaded in excel format XLSX. Answers are in columns, each respondent on a separate row. More output options will be added soon (real-time charts, CSV, etc.).

Open-ended vs. close-ended questions
Closed-ended questions:
A limited set of possible answers
Used mainly for screeners and profile details
Great for focus group feedback, follow-ups
Easy to process and analyze
You get only what you expect, nothing more
For small samples, results aren't reliable
Open-ended questions:
Allow unstructured free-form answers – you can get more content than closed-ended questions.
Applicable even for small samples
Higher level of detail
Respondents need more time to complete the questions
More time to process and analyze responses
Moderators
You can assign one or several moderators to your projects. He can discuss with all other participants, mute or kick out anybody, and has some administrative privileges.
Respondents
Collabito provides an easy way how to add and administer all respondents in the project. There is also an email module for sending bulk invitations and reminders.
Clients
You can invite your clients or colleagues to observe the project and send messages to the moderator.
Team member
The account owner and his team members can create new projects and edit them, moderate discussions or assign external moderators, and much more.
Frequently asked questions for questionnaires
Can I present images or videos in the questionnaire?
Yes, you can add upload an image or embed a video to the introduction text at the beginning of the questionnaire.
Is there a way to export into a CSV file?
We are going to add the CSV export functionality in a future release of Collabito. Currently, you can export results into a .xlsx file, open it in Excel and save it as a CSV file.
Can respondents see the summary results of the questionnaire?
We are planning to add the charts with results soon.
Qualitative research platform
Collabito offers an easy and affordable solution not only for market researchers.
Let's discuss if we can help with your project.
Simple, easy to learn qualitative platform
Affordable price, pay as you go
Want to learn more? Get a free demo with a member of our team.