Pay as you go – we offer competitive project-based pricing. All text-based modules are covered by the project fee (bulletin boards, diaries, blogs, questionnaires, text chats). We charge additional video credits for video sessions.
Standard
€175
Mid-sized projects
Plus
€295
Larger projects
Advanced
€400
Big projects
* If the project lasts longer than one month (Basic and Standard projects), we will charge the project fee every active month when the study is running and has some activity. The Advanced project period is 2 months.
A project is a virtual space with a unique URL address, which includes respondents, pages (chats, discussion boards, polls…), and settings.
If you use only text modules, you pay only the project fee. We charge additional fees only for video focus groups (video credits).
Fees for video focus groups (video credits)
Video focus groups require a higher level of infrastructure, so we charge additional fees for video streaming in the form of prepaid credits. The price depends on the number of participants and the length of the video FG session.
You can find out the price and examples on the video credit calculator page.
How to pay and when?
Let us know before you start your new project and we will confirm the price.
Our regular clients pay on completion of the project. In some cases, we may require prepayment for new customers.
We offer several payment methods: bank transfer, credit/debit card payment, Paypal.
What is your refund policy?
Our goal has always been to have satisfied users. If you are not satisfied, let us know please and we will refund your purchase right away.
Will I pay some fees if my account is not active?
No. You pay only for active projects, there are no fees if you don't have any projects.
Volume discounts
Contact us to get individual high-volume pricing.
Qualitative research platform
Collabito offers an easy and affordable solution not only for market researchers.
Let's discuss if we can help with your project.
Simple, easy to learn qualitative platform
Affordable price, pay as you go
Want to learn more? Get a free demo with a member of our team.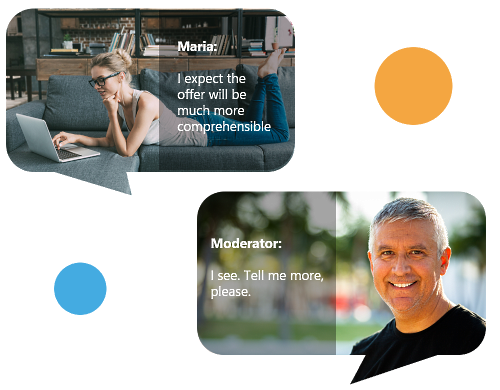 Basic
€95
For small and short projects
Standard
€175
Best for mid-sized projects
Advanced
€400
For large projects