Online Focus Group Software
Qualitative research tools: text-based live chats, discussion boards, blogs, video focus groups. Mobile friendly.
A simple and affordable solution for your online qual research projects.
Online Focus Groups and Discussion Boards
Assemble your qualitative project from various parts. You can conduct only one focus group or build a complex project with many discussion boards, chat rooms or polls.
Book a demo
Learn how Collabito works and check if the platform works for your needs. We will show you all important features in action.
Virtual focus group app
Invite your respondents to discuss in a text-based chat room or video room.
The live chat module provides several useful tools and functions:
Media presentation – show videos, pictures or YouTube streams on the whiteboard. Respondents can draw on the images or evaluate video spots in real time.
Moderator's guide – prepare your questions in advance. To activate the question, just click and it appears in the chat box.
Whiteboard – a big space on the respondents screen is dedicated to media presentation.
Silent mode – you can switch the view of respondents so they can only see their own communication with moderator.
Whispering – message are sent directly to specific users.
User info – see respondents information easily by moving mouse over its name.
Export – real-time transcripts including whiteboard activities.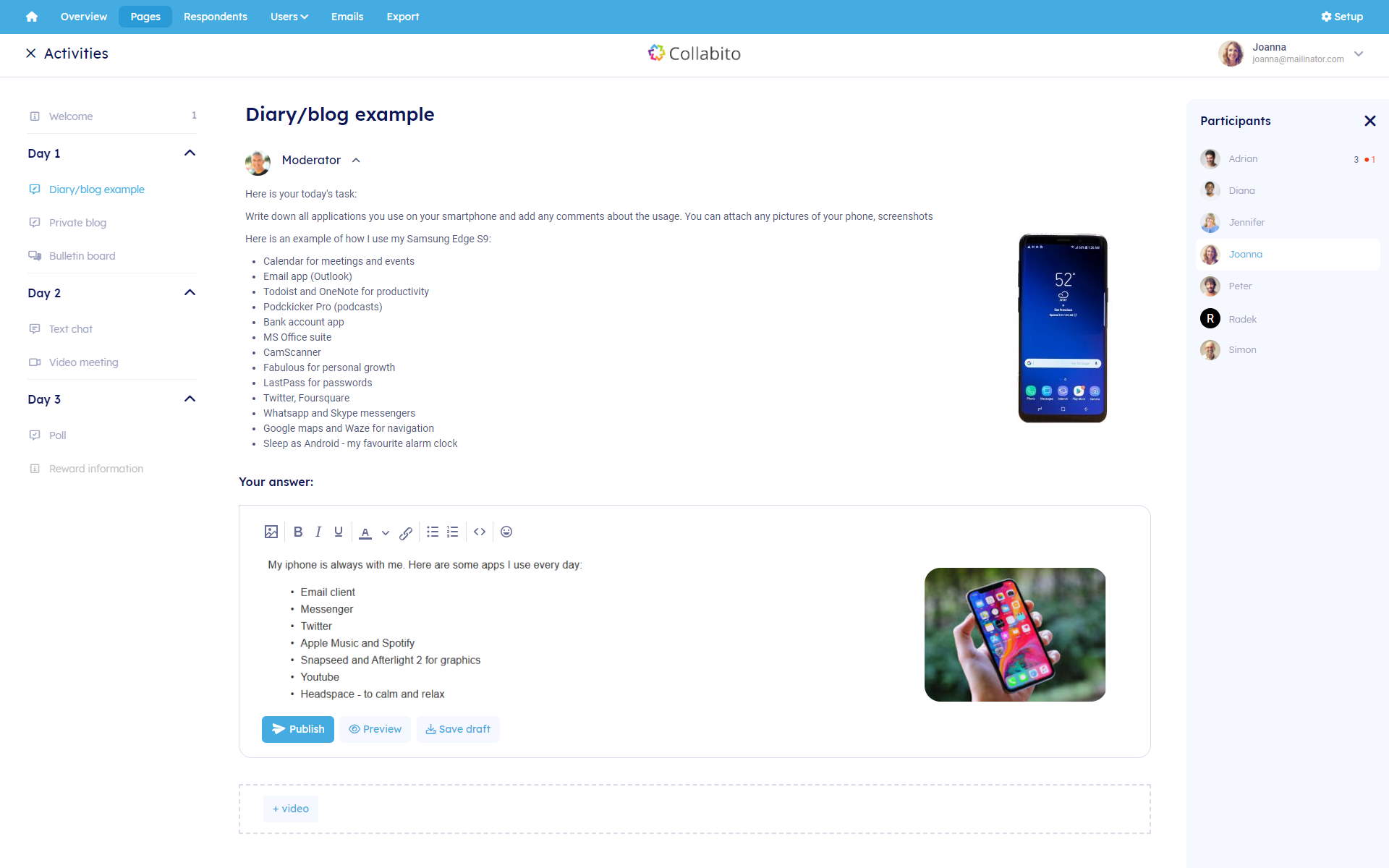 Online research blogs, diaries and bulletin boards
Let your respondents create their own blogs. Other participants can read the articles and comment them immediately after publishing. You can create many topics within one project so the moderator can give for instance new task each day. Main features of research blogs:
Moderator submit tasks for participants. The platform supports unlimited number of tasks (research topics) within one project.
Respondents write blogs according to the given tasks. Their blogs are visible to other respondents in the project. Other respondents can submit comments and discuss the topics.
Collabito supports an easy application of multimedia – pictures, videos, sounds.
Questionnaires, text pages
Create a static welcome page, an end page with reward information, or any other other static content to help respondents get the information.
You can also add a discussion block below the texts or include the history of events so people know what they missed during their absence.
Another page type is the questionnaire or poll to ask respondents various questions.
Qualitative research tools in one research platform
Building your qualitative online research project has never been so easy. The setup takes you only a few minutes.
Languages and localizations
The admin and moderator interface is in English. For respondents, Collabito offers the following languages:
English – Bulgarian – Czech – Croatian – Dutch – French – German – Greek – Hungarian – Italian – Polish – Portuguese – Romanian – Russian – Slovak – Slovenian – Spanish – Ukrainian
Is your language missing? Let us know, we can quickly add your language too.
Custom branding
Use your logo and corporate color scheme in your projects.
Training and support
Talk to a real person to get the help you need.
Security & data protection
Robust and secure platform for your data. GDPR ready, SSL encryption, servers located in EU.
Useful resources and articles
How to conduct research projects remotely
Which qualitative method to choose
Online focus group - checklist
Focus group recruiting and sources
Advantages and disadvantages of online focus groups
Invitation email, tips and template
How to record focus group discussion
Market research conferences 2021
Online focus group platforms
Collabito offers an easy and cost-efficient solution not only for market researchers. It is a brainstorming tool used by marketing or tech companies as well. Let's discuss if it can help your needs. If not, we will recommend a suitable alternative from current qualitative research tools. Want to check a demo focus room online?